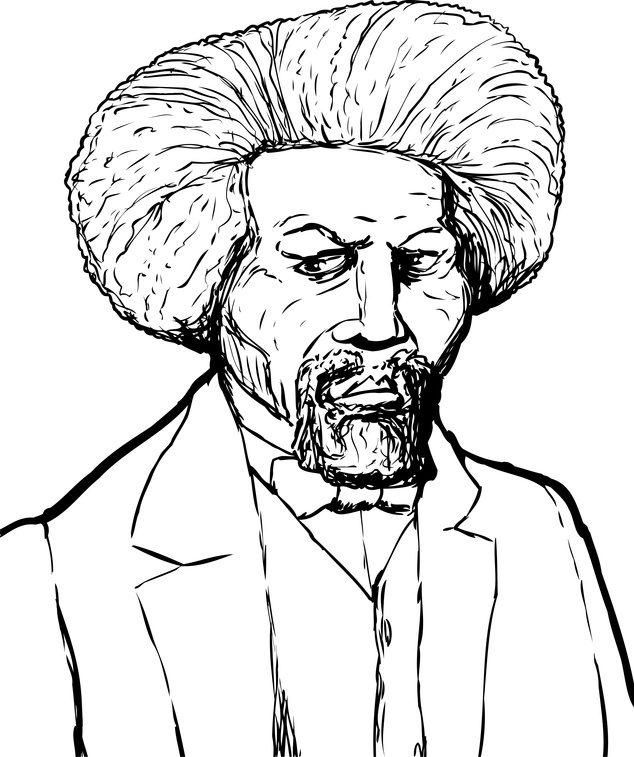 Reporter: Frederick Douglass
Yesterday's Story, 1845
Mr. Gore once undertook to whip one of Col. Lloyd's slaves, by the name of Demby. He had given Demby but few stripes, when, to get rid of the scourging, he ran and plunged himself into a creek, and stood there at the depth of his shoulders, refusing to come out. Mr. Gore told him that he would give him three calls, and that, if he did not come out at the third call, he would shoot him. The first call was given. Demby made no response, but stood his ground. The second and third calls were given with the same result. Mr. Gore then, without consultation or deliberation with anyone, not even giving Demby an additional call, raised his musket to his face, taking deadly aim at his standing victim, and an instant poor Demby was no more. His mangled body sank out of sight, and blood and brains marked the water where he had stood.
A thrill of horror flashed through every soul upon the plantation, excepting Mr. Gore. He alone seemed cool and collected. He was asked by Col. Lloyd and my old master, why he resorted to this extraordinary expedient. His reply was, that Demby had become unmanageable. He was setting a dangerous example to the other slaves, – one which, if suffered to pass without some such demonstration on his part, would finally lead to the total subversion of all rule and order up on the plantation. He argued that if one slave refused to be corrected, and escaped with his life, the other slaves would soon copy the example; the result of which would be, the freedom of the slaves, and the enslavement of the whites.
Mr. Gore's defense was satisfactory. He was continued in his station as overseer upon the home plantation.
I speak advisedly when I say this, –that killing a slave, or any colored person, in Talbot county, Maryland, is not treated as a crime, either by the courts or the community. (Douglass 23-24)
Today's Comments
Ms.KeKeeFullertin: Cop shoots an unarmed black man and keeps his job. What else is new? When are we going to wake up and end this assault against us?
The Devil's Adjective: This comets are jacked you guys can defint this shit are the sparn of satin.
KimberCanasta22: Let me guess, another black thug who thinks the law doesn't apply to him.
Mt. KillamonGerald: @The Devil's Adjective: Are you speaking English? Invest in a dictionary and a damn grammar course!
MayB2daytoo8: When you run from the police, you get what you deserve.
Ms.KeKeeFullertin: @KimberCanasta22, You're a horrible excuse for a human. Why are you even breathing?
Mt. KillamonGerald: @Ms.KeKeeFullertin, You can't fight the police and win. If you think you're being wronged, go ahead and comply and then take your complaint up through the proper channels.
Chad_Berkenstromm:The gentleman was shot and killed by a plantation overseer, not a cop. However, your points are well taken considering that the overseers of yesterday are the law enforcement officers of today.
BigNate_: @Mt. KillamonGerald, mothafucka you sound like a damn fool. go swallow a bag of cobra dicks and die!
Mt. KillamonGerald: @Chad_Berkenstromm, Hey Chad, you must have a Lakeisha at home.
Ms.KeKeeFullertin: @Mt. KillamonGerald: If so, potato salad sans raisins. Winning!!!
—————————-COMMENTS HAVE BEEN CLOSED——————————-
Douglass, Frederick. Narrative of the Life of Frederick Douglass, an American Slave, Written by Himself. Edited by William L Andrews and William S McFeely, W.W. Norton & Company, 1997.